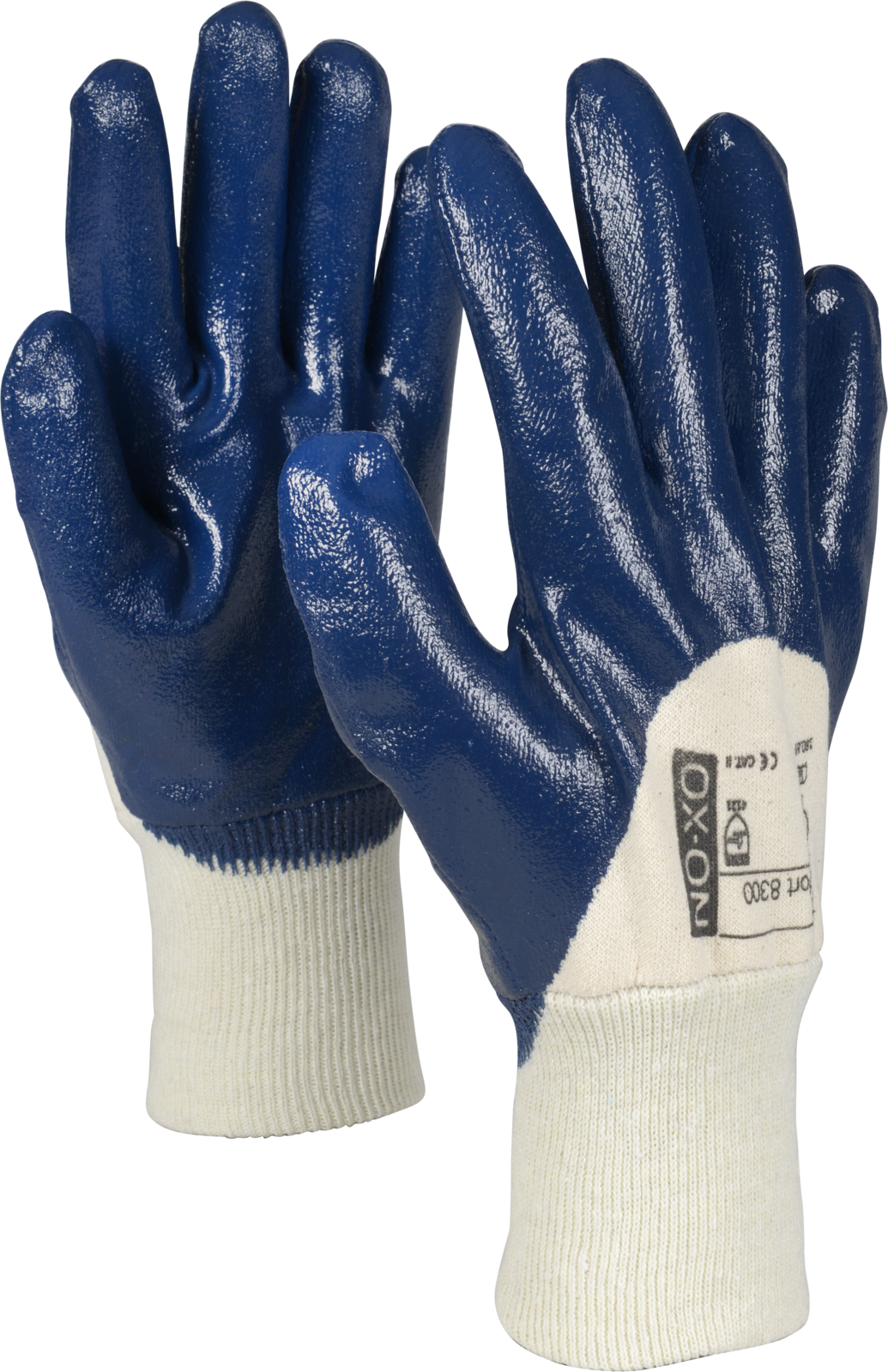 Comfort
Our system is preparing your .PSD files. This can take a moment. If you leave this page before your files is prepared they will not be downloaded.
OX-ON NBR Comfort 8300
Product number:

180.69

Amount in package:

12 pairs
Properties
Oil resistant and liquid tight

Extremely durable

Knitted cuff

Very good grip

Knuckle-dipped blue nitrile coating
The OX-ON NBR Comfort 8300 is an extremely durable glove for working in wet environments, such as wastewater, masonry or construction work, waste disposal, construction, transportation or industry. The glove is liquid-tight to keep fingers dry. This blue NBR nitrile work glove also gives an exceptionally good grip on e.g. oiled items. The nitrile coating covers both the palm and fingers all the way up to the knuckles. The back of the hand is made of cotton for comfort and breathability. The NBR Comfort 8300 has a knitted cuff for a tight and stable fit.
Order
| Size | Art. no. | DB No. | EAN no. | FINFO no. |
| --- | --- | --- | --- | --- |
| CE 09 | 180.69 | 1911671 | 5701952180691 | 6735154 |
| CE 10 | 180.70 | 5631390 | 5701952180707 | 4529933 |
| CE 11 | 180.71 | 5148039 | 5701952180714 | 4529934 |
Antal
| Minimum order | box | cll |
| --- | --- | --- |
| 12 pairs | 12 pairs | 144 pairs |
datasheets
Conformity
Certificate
Usermanual